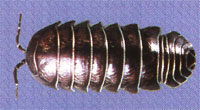 Is it just me or are these things YUCKY! The kids are thrilled that they are everywhere. They have been collecting them like they are pricless treasures. Which I didn't mind until I started finding them escaping their confines and roaming our house. I even caught Rylan sitting in his bed with them all around him playing. They have since been banned from the house.
THESE ARE OUTSIDE TOYS FOR CRYING OUT LOUD!
So now we have a roly poly farm, a rock family (collected rocks that have a pile by our front door), and giant collection of McDonalds toys that are the favorites hands down. There is really no need to buy toys for the kids in this house.